1. For v1.37:
1.1 method 1:
For Users lower than iPhone 6S (i5/5C/5S/6/6Plus)want to use ICCID unlock method, need to be Jailbreak their iPhones. From Cydia install Filza File Manager.
Open Filza then Go to System/Library/Coreservices. There you will find SystemVersion.plist file. Open this file and you will find ProductBuildVersion. We need to change Value of this ProductBuildVersion to 17D50. Then go back you will find ProductVersion and we need to Change Value of this to 13.3.1 and save.
Now restart your iPhone, your device shows Software Version 13.3.1 (17D50)
Now you can unlock your device with ICCID unlock method.
Enjoy.
1.2 method 2:
1. Jailbreak the device and install Cydia.
2. Add source: haphung.yourepo.com
3. Go to Souce Haphung and install Tweak Fake iOS Active ICCID.
4. Reboot and mount the active ICCID SIM card.
5. Jailbreak, install Cydia and remove Tweak.
6. Restart. Ready.
2. For v1.31 to v1.36(IOS 13.3.1 Required)
Step 1: Select 'ICCID onlyATTsim' option

Step 2: Input available ICCID '89014103270421600735'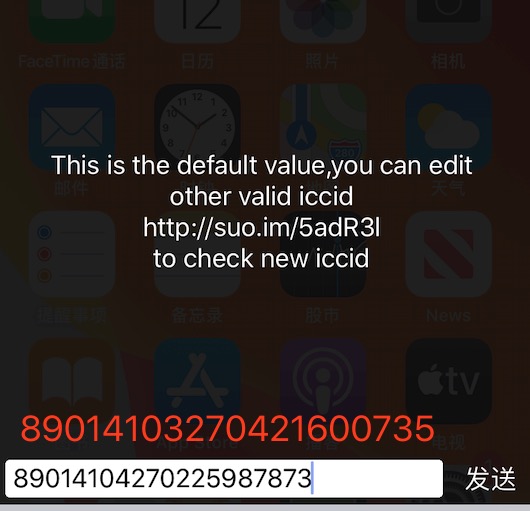 Step 3: Setting done, your iPhone will return activated screen and you just activate
Now enjoy your perfect unlocking